September 18, 2017
OPEC's share of the global oil market will grow from 42 percent in 2015 to 48 percent in 2040, according to the Energy Information Administration's (EIA) reference case scenario in its latest long-term outlook. In the International Energy Outlook (IEO), released last week, EIA says 87 percent of the 11.9 million barrels per day (mbd) of crude production growth will come from OPEC members. The increase in the cartel's crude supply will far outpace growth in non-OPEC countries, including the United States and Canada. EIA's IEO 2017 anticipates that U.S. crude oil production will peak at 10.5 mbd in 2026, and then plateau throughout the rest of the forecast period. Middle East OPEC production will grow by 4.3 mbd from 2015 to 2030, and by 8.2 mbd through 2040, reaching 33.1 mbd in 2040. EIA's latest forecast reflects the increased relevance of OPEC in the global oil market in the coming decades.
September 8, 2017
U.S. light truck sales continue to surge as lower gasoline prices have helped turn consumers toward larger and less fuel-efficient vehicles. Some 10.3 million light truck sales accounted for 64.3 percent of the light-duty vehicle (LDV) market in August, up three percent from last year. According to the latest data from the Bureau of Economic Analysis, LDV sales—seasonally adjusted at annual rates—have fallen by one million versus August 2016, but remain high at 16 million new vehicle purchases. Relatively low gasoline prices, which averaged $2.30 per gallon nationwide last month, and a shift in consumer preferences toward less efficient SUVs are placing upward pressure on monthly light truck sales, which remain at all-time highs. The EPA and NHTSA are currently accepting comments on MY 2022-2025 fuel efficiency standards.
September 1, 2017
Hurricane Harvey wreaked havoc on the U.S. Gulf Coast this week, shutting in crude oil production and forcing the closure of several major refineries that have been impacted by significant flooding. On the New York Mercantile Exchange, the spread between crude oil and gasoline widened as traders digested the impact of ongoing refinery outages along with the shutdown of the extensive Colonial Pipeline. There is more crude in the market but less gasoline. NYMEX RBOB gasoline futures for October delivery were up eight percent Thursday as the spread to crude oil grew to $27 per barrel. Gasoline typically trades nearly in step with crude oil futures, but Hurricane Harvey has jolted the market, causing a rare sharp divergence that saw crude futures fall and gasoline prices rise. Consumers are already playing more at the pump. On Thursday, AAA reported nationwide gasoline prices rose five cents over the previous day's closing price to $2.44 per gallon for regular gasoline. Hurricane Harvey has disrupted approximately 20 to 25 percent of U.S. refining capacity and some output in Texas' Eagle Ford Shale Formation and offshore Gulf of Mexico.
August 22, 2017
Even though the growth rate in EV sales slowed in July, 2017 is shaping up to be a banner year for the electric vehicle market. U.S. EV sales grew six percent y-o-y in July, with more than 15,100 plug-in and battery-electric vehicles purchased. Although the growth rate dipped from 22 percent in June, certain models saw significant increases in sales. The popular Toyota Prius Prime sold 1,645 units, compared with just four units at the same time a year ago. Tesla's Model 3, which has a range of up to 310 miles, went on sale July 28, with units primarily sold to employees. Sales of the competitively priced vehicle, which costs $35,000, are expected to pick up sharply in the coming months. Daimler models grew 98 percent y-o-y in July, driven mainly by the Mercedes S550 PHEV. There are now 37 advanced fuel vehicle models in the U.S. market, including 21 PHEVs, and 13 battery electric vehicles. Since January 2011, automakers have sold more than 661,000 EVs.
August 18, 2017
U.S. automotive traffic fatalities declined slightly throughout the first six months of the year, averaging around 40,200 on an annualized basis. The latest data from the National Safety Council shows high, but declining fatalities that are nonetheless more than 4,200 deaths above the same six-month period in 2015. The increase in vehicle miles traveled over that time—which in H1 2017 grew by more than 172 million miles per day y-o-y—is at least partially responsible for the uptick in fatalities. Lower gasoline prices have motivated more drivers to travel more, increasing the overall number of traffic accidents. Automotive safety experts warn that the proliferation of smartphone technologies—and other handheld portable devices—increase the potential for distracted driving, which could also be partially responsible for the significant uptick in traffic fatalities. The automotive industry is currently developing autonomous technology that has the potential to reduce traffic fatalities, while also providing greater fuel efficiency and transportation access to the aging and disability communities, and other disadvantaged groups.
August 11, 2017
Oil Price Forecasts from Investment Banks
Investment bank forecasts have varied considerably over the past two years. Following the late 2014 collapse in global oil prices, forecasters scaled back their initially rosy expectations that oil prices would rebound swiftly. In their latest round of price projections, Wall Street now predicts West Texas Intermediate to remain steady in between $40 and $63 per barrel, reflecting the prevailing 'lower for longer' sentiment. A compilation of The Wall Street Journal's oil price forecasts in four time periods between Q1 2015 and Q2 2017 show how actual WTI prices have consistently tracked in the middle- to- low-end of the projected forecast range over the past two years. Historically high commercial inventories, resurgent U.S. shale oil production, and short sales on commodities markets have helped keep oil prices low, despite OPEC's attempts to balance the market and steadily growing global demand over the past several years.
August 4, 2017
Through the first five months of 2017, US crude exports ramped up to unprecedented levels, with the average for April and May above one million barrels per day (mbd). Volumes to China and Canada accounted for 57 percent of the total, or 495,000 barrels per day (b/d). The nine countries that represented the largest share of U.S. exports made up 92 percent of total crude exports, but U.S. barrels went to 28 different countries from January through May. Almost 200,000 b/d was exported to China, and more volumes could go to Asia as Indian refiners are now taking in U.S. crudes. In another development, the small Caribbean island nation of Curacao has been importing U.S. crude this year for Petróleos de Venezuela to mix with its heavy crudes. With recent developments in Venezuela, cutting off exports may be included as part of a U.S. sanctions strategy to crack down on the Maduro government. Despite exports averaging 872,000 b/d for the first five months of the year, the U.S. still imports around 8 mbd.
July 28, 2017
Barrels at Risk, July 2017
Heightened geopolitical risk in Venezuela threatens to roil the global oil market. On Sunday, President Nicolas Maduro has planned a vote on whether to rewrite the country's constitution. The outcome of the vote could inflame riots and provoke confrontations with street protesters. Venezuela is the world's largest crude oil reserve holder and a major crude oil exporter to the U.S. The U.S., which exports large volumes of gasoline to Venezuela and imports more than 700,000 b/d of its heavy crude, recently announced targeted sanctions against Petróleos de Venezuela leadership. A U.S. response banning imports would have a significant impact on U.S. Gulf Coast refineries, which are specifically configured to process heavy crude. In a research note, Barclays says the Venezuela vote could be a catalyst for the country to default on its upcoming debt payments and may apply upward pressure on oil prices. The bank forecasts a $5 to $7 per barrel increase in crude oil prices depending on the duration of any disruption.
July 18, 2017
U.S. oil production is continuing its rebound, aided by a flurry of economic activity in oil and gas drilling operations. In June, the United States oil-rig count increased 126 percent year-over-year (y-o-y) to 747 rigs, despite downward trending domestic oil prices over the last six months. Meanwhile, the Producer Price Index (PPI)—a measure of the change in the selling prices received by domestic producers for their output—is back on the rise after it fell precipitously following the 2014-16 oil price collapse. PPI and oil-rig counts can be used to demonstrate how demand for oilfield service providers respond to changes in commodity prices. New Bureau of Labor Statistics data released last week shows that costs are 326 percent above 1985 baseline levels, but, despite the recent uptick, they remain well below pre-price collapse spending. Oilfield service providers are focusing their attention on increasing operational efficiencies to grow output and lower costs amid unpredictable fluctuations in prices.
July 3, 2017
The stock values of independent shale companies dropped roughly 30 percent in H1 2017 while West Texas Intermediate (WTI) fell 14 percent versus the beginning of the year. Indexing the relative change in six independent producers' stock valuations against the three U.S. oil majors and the WTI price reflects how particularly difficult the environment is for shale companies. U.S. independents are more exposed to a price downturn than integrated majors, which have a more diverse asset base. The outlook for independent producers for 2H is uncertain because of questions surrounding OPEC's strategy and the continued inventory overhang.
June 23, 2017
Federal offshore oil production grew to 1.6 million barrels per day (mbd) in 2016, an increase of 280,000 barrels per day (b/d) from 2014. In contrast with a period of declining overall domestic oil production that started in late 2014, U.S. offshore supplies have grown to represent nearly one-fifth of U.S. output. EIA's reference case scenario projects Gulf of Mexico production to rise to 2.0 mbd in 2020 (+398,000 b/d from 2016 levels) as new offshore projects sanctioned before the 2014 price collapse come online. Dwindling shallow water reserves, in combination with new advanced drilling technologies, have enabled oil production from deepwater and ultra-deepwater wells more than 1,000 meters below the ocean surface. More than 85 percent of Gulf of Mexico production last year came from deep- and ultra-deep water wells. Offshore oil output tends to follow long-cycle capital investment patterns, which are often planned many years before the start of actual production. For instance, the Son of Bluto 2 and Horn Mountain Deep projects, discovered in 2012 and 2015, respectively, are expected to initiate production this year at depths greater than 1,600 meters.
June 16, 2017
Forecasting agencies anticipate OPEC to produce less than what the market needs throughout H2 2017. This trend is in stark contrast to 2015, when the cartel produced well more than what was needed, in an effort to weed out higher-cost shale production. The EIA and IEA's supply projections for H2 2017 show OPEC's call—or the amount the group has to produce to balance the market—to be 33.6 million barrels per day (mbd), roughly one mbd higher than members' current output. OPEC, which released its latest estimates earlier this week, assumes a lower call on its crude due to a weaker global demand baseline compared to EIA and IEA. EIA's bullish supply forecast for 2018 calls for non-OPEC liquids to rise sharply to 60.9 mbd by year end. If that comes to realization, then the call on OPEC will drop. The EIA's forecast for OPEC crude output for next year is based on the group extending cuts through 2018 to draw down currently large inventories.
June 9, 2017
Although petroleum's share of the U.S. trade deficit increased 2.4 percentage points year-over-year (y-o-y) in April 2017 to 11.4 percent, it remains in a structural decline. The slight uptick occurred despite resurgent U.S. oil production and growing net product exports, both of which have reduced petroleum's share of the overall deficit throughout the past five years. Total net imports of crude oil and petroleum products fell by 119,000 b/d to 4.5 million barrels per day (mbd) y-o-y in April, continuing a three-month decline. Even though net crude oil imports increased 380,000 b/d y-o-y in April, these gains were offset by petroleum product exports rising relatively sharply to 3 mbd (+590,000 b/d y-o-y). EIA's June 2018 forecast calls for total net imports to decline by 640,000 b/d to 3.4 mbd with imported prices averaging $50.50 per barrel. Petroleum imports have historically been a major drag on the U.S. trade deficit, linked to global oil prices and robust demand, but the shale boom this decade, along with excess refining capacity, has helped narrow it considerably.
June 2, 2017
OPEC's November 2014 decision to keep production levels elevated stymied U.S. crude oil production, which had been on an upward trajectory until then, exceeding EIA's expectations. Between September 2015 and December 2016, output in the Lower 48 fell below predicted supply levels by a difference of 540,000 barrels per day (b/d) in July 2016. U.S. supply had been increasing by an average of roughly 600,000 b/d beyond expectations in the 12 months leading up to OPEC's decision. Prices, which were predicted to remain in the $90 per barrel range through 2015, abruptly plunged below $60 per barrel and dropped further to under $30 per barrel in February 2016 before the world's major oil producers entered freeze talks. The agency's latest six-month forecast calls for approximately 7.4 million barrels per day by year's end, roughly 800,000 b/d more than EIA's forecast last year. Volatile oil prices nevertheless continue to cast uncertainty over the short term.
May 26, 2017
U.S. gasoline demand is expected to match 2016's daily average and hold steady at 9.33 million barrels per day (mbd) in 2017, with July poised to set the all-time monthly record at 9.67 mbd. U.S. motorists drove a record 267 billion miles in Q1 2017, but gasoline consumption during that time dropped by approximately 190,000 barrels per day (b/d) year-over-year (y-o-y). This decline likely reflects improved fuel economy throughout the country's fleet. Domestic gasoline inventories have fallen for three straight weeks as demand is seeing its typical seasonal uptick. Stock draws, however, were a little over 400,000 barrels short of the expected 1.2 million barrel mark, as refiners have increased production of gasoline. Gasoline prices heading into Memorial Day weekend are about 10¢/gallon higher y-o-y, at $2.40/gal.
May 19, 2017
The 2014-16 price rout deeply cut into OPEC members' oil export earnings, leading to significant bloc-wide year-on-year (y-o-y) revenue declines. EIA data released this week shows the 13-member OPEC cartel collectively earned $433 billion in 2016, the lowest total since 2004 and an $82 billion decline versus 2015. In 2016, Saudi Arabia, the de facto leader of OPEC, saw a $26 billion revenue loss y-o-y. This drop was much more modest in comparison to the Kingdom's $141 billion y-o-y decline in 2015. While Saudi Arabia has relied on huge foreign reserves to fund government programs, other OPEC members do not have the same capabilities. Venezuela, which is now in the throes of a worsening economic and humanitarian crisis, is experiencing devastatingly high inflation, along with runs on banks, food shortages, and unemployment. Ahead of OPEC's meeting next week, most members now say they are likely to extend production cuts another nine months. EIA projects OPEC export earnings to grow on the expectation of higher prices in 2017 and 2018, reaching $527 and $570 billion dollars, respectively.
May 12, 2017
Oil price volatility has fallen to remarkably low levels as shale oil production has rebounded and OECD inventories have remained at above-average levels. Volatility averaged 69 percent in Q1 2016 but dropped to an average of just 25 percent in Q1 2017. In March 2017, 30-day volatility averaged 25 percent, reflecting U.S. crude oil production's sustained recovery. Of course, given the uncertain nature of the global oil market, increased volatility could return at any time. Right now, oil prices have found a sweet spot around $50 per barrel, but doubts about OPEC production policy, the ongoing crisis in Venezuela, speculator activity, and questions about economic growth could all boost volatility during the second half of the year.
May 4, 2017
Amid historically high U.S. oil production in Q1 2017, the Trump Administration ordered a review of offshore fields available for auction last Friday, signaling its intent to expand the areas available for oil and gas drilling in the United States. The waters targeted for new exploration and development activities include the offshore Arctic, along with the Pacific and Atlantic Oceans, together accounting for 29.6 billion barrels of undiscovered, but technically recoverable resources. The vast majority of federal lands remain off-limits to resource development. For instance, some 89 billion barrels of oil and gas reserves are currently not available under federal restrictions. While the U.S. is increasing onshore oil production from shale reserves, further expansion of offshore resources is significant for boosting long-term U.S. oil production capacity.
April 28, 2017
As Americans approach the summer driving season, the U.S. is still experiencing record levels of vehicle miles traveled (VMT), increasing 2 percent year-over-year to 267 billion seasonally adjusted miles in Q1 2017. Against this backdrop, almost 20 percent of U.S. roadways are currently listed in "poor" condition, according to an analysis by the American Society of Civil Engineers (ASCE), earning a D rating for roadway infrastructure. Some states stand out in the ASCE report card, including California, Washington, and Pennsylvania, giving them more urgency to enact legislation. ASCE estimates $4 trillion will be required to fix the nation's infrastructure. Transportation-related spending bills have been introduced in more than 30 states over the past three years, some of which propose increasing state gasoline taxes to address these critical problems.
April 19, 2017
In March 2017, electric vehicle sales reached the second-highest monthly number ever, topping 17,000 across manufacturers, a 30 percent increase month-over-month (m-o-m). In total sales terms, Q1 2017 increased 52.7 percent year-over-year, spurred by increasing model availability across states. The sharp growth in March was propelled by higher-than-expected Tesla sales. In particular, Tesla Model X sales grew threefold to 2,500 while sales of the Tesla Model S nearly doubled m-o-m to 3,100 units. Strong BMW sales also boosted EV figures for the month, rising 47 percent m-o-m. By contrast, total vehicle sales dropped month-on-month and year-on-year in March. An uptick in EV sales was expected given the start of a the summer "driving season" as consumers return to the roads for the peak travel times of the year.
April 12, 2017
Barrels at Risk, Q1 2017
Geopolitical risk has returned to the oil market, with prices recently seeing spikes as a result of U.S. airstrikes in Syria and forced closure of several ports and facilities in Libya. After the market began tumbling in mid-2014, there was less worry about supply disruptions amid high crude stockpiles creating a buffer against unplanned outages. But now traders say the number of barrels at risk will take on more importance in coming months with OPEC having cut output and global stockpiles falling. Unplanned oil outages, totaling 2.11 million barrels per day, were relatively stable quarter-over-quarter (q-o-q) in Q1 2017, with output decreasing by 120,000 barrels per day (b/d) in Colombia, Nigeria, and Libya. Venezuela saw a second consecutive quarter of production declines, falling 80,000 barrels per day q-o-q. In Nigeria, President Muhammadu Buhari's government has restarted negotiations with Niger Delta militants to slow attacks on infrastructure. Production levels after H1 2017 remain deeply uncertain as OPEC will convene in May to determine whether its agreement with a number non-OPEC producers to reduce production will be extended.
April 6, 2017
Short speculative positions in NYMEX WTI futures and options contracts increased to 116.7 million barrels last week as a growing number of money managers anticipate a market turnaround amid long liquidation and rising U.S. production. Nevertheless, net length remains at very high levels, an indication that traders anticipate OPEC to roll over its November 2016 output cut and fundamentals to tighten during the second half of 2017. Speculative positions tend to fluctuate week to week depending on technical data, OPEC rhetoric, and U.S. inventory data. In the U.S., commercial players have hedged aggressively along the forward curve, giving domestic producers some guaranteed financial support. Despite expectations OPEC will continue to cut for the second half of the year, large OECD commercial inventories and rampant producer hedging create tremendous uncertainty and could cause more shorts to enter the market and longs to liquidate, putting downward pressure on prices.
March 30, 2017
Large oil price swings can have a damaging effect on the U.S. economy and employment. The effects on employment can vary substantially by industry and by the direction and magnitude of the oil price swing. The recent history of oil prices is presented in the chart above. Two large swings are particularly noteworthy: the oil price spike that ended in July 2008 and the oil price crash that began in late 2014 and endured through early 2016. A factor alongside the housing crisis and ensuing Great Recession, the oil price spike severely affected the transportation industry in particular. Employment in auto and parts manufacturing, plus dealerships, fell from roughly 3 million to 2.3 million between late 2007 and late 2009, a decline of more than 20 percent (total U.S. nonfarm employment by comparison declined by approximately 6 percent). The oil price crash, by contrast, affected the energy industry most severely as more than 210,000 jobs (roughly 10 percent of the total) were lost between mid-2014 and late 2016.
March 16, 2017
Consumer demand for plug-in vehicles continues to see strong growth. Sales during the first two months in 2017 are already exceeding the comparable period in 2016, and may well set up 2017 to be another record year for plug-in vehicles. This trend is likely to continue as the Chevy Bolt becomes available across the country and the Model 3 launches later this year. At the same time, at least thirty U.S. cities are joining together with plans to buy $10 billion worth of electric cars and trucks, according to reports this week. The cities are said to be examining the feasibility of purchasing 114,000 electric vehicles, a considerable sum given cumulative EV sales stand at roughly 600,000 since January 2011. Such a plan would provide a meaningful boost to the market at a time some states are poised to roll back EV tax credits.
March 2, 2017
Gasoline Prices and Year-Over-Year Change in VMT
Total U.S. gasoline consumption increased to 9.3 million barrels per day in 2016, slightly exceeding the previous record set in 2007. Relatively low gasoline prices—averaging approximately $2.30 per gallon over 2015 to 2016 versus approximately $3.40 per gallon from 2013 to 2014—helped stimulate consistently strong growth in travel demand as total vehicle miles traveled (VMT) also reached new highs. VMT adjusted on a "per capita" basis was less than 2 percent below historic highs set in the mid-2000s, but has increased each year since 2013. Likewise, gasoline consumption adjusted on a "per capita" basis was almost 8 percent below highs set in the mid-2000s, but has increased each year since 2012.
February 23, 2017
U.S. automotive fatalities continue to mount with an estimated 40,200 lives lost in 2016—a total of 2,443, or 6.5 percent more than in 2015, the first time the number breached 40,000 in at least nine years. The rise in fatalities closely follows eleven consecutive year-over-year (y-o-y) increases in total vehicle miles traveled (VMT), but traffic deaths are occurring at a faster pace. VMT rose by 2.7 percent annually in 2015 and 2.6 percent in 2016. At the same time, automotive fatalities increased by 6.7 percent and 6.5 percent in two years, respectively. At a February 22, 2017 Capitol Hill briefing on the benefits of autonomous vehicles, industry experts including Hilary Cain of Toyota and Bob Lange, formerly of General Motors, emphasized the technology's potential to dramatically decrease the number of fatal and serious injury crashes seen on American roads year after year.
February 17, 2017
EIA Global Oil Demand Growth Forecasts Increasingly Bullish Compared to IEA
The U.S. Energy Information Administration's (EIA) global oil demand forecasts have grown increasingly bullish over the past year, in part a reflection of the agency's growing confidence that demand from non-OECD countries, most notably China, will continue to rise. EIA said in its latest monthly outlook that growth would average 1.6 million barrels per day (mbd) in 2017, some 400,000 b/d higher than the forecast a year ago, and a full 200,000 b/d higher than the International Energy Agency's 2017 global oil demand projection. A historically bullish forecaster, EIA increased its baseline estimates for 2013-16 by about 900,000 b/d to account for higher demand in some non-OECD countries. Its latest outlook for 2017 pegs world liquids consumption at 98.1 mbd, 1.7 percent higher than its current 2016 global demand estimate. Despite OPEC's recent production cut and rising demand, high commercial inventories and increased shale output may prolong market rebalancing.
February 10, 2017
Industry Will Cautiously Boost 2017 Capital Expenditures
Oil majors are budgeting to increase capital expenditures in 2017 after two to three years of declining investments. Still, the numbers are conservative, with BP, ConocoPhillips, Exxon, Occidental, and Shell together estimating only an average increase of 9.6 percentage points over 2016 levels. Combined, the five majors spent $65.1 billion last year after having averaged yearly investments of $101.9 billion over the preceding six years. Chevron, on the other hand, will cut spending for the fourth straight year, with a 12 percent decline down to $19.8 billion from $22.4 billion in 2016. Together, all six companies plan to spend approximately $91.6 billion in 2017. Majors are for the most part sticking to capex projections that were first hinted at in early fall of 2016, notwithstanding the Organization of Petroleum Exporting Countries (OPEC) announcing production cuts in the time since and contributing to the current price of about $55/bbl.
February 3, 2017
Household Gasoline Expenditures on the Rise
U.S. gasoline and other motor fuels spending increased for the first time in nine quarters in Q4 2016, reflective of rising prices and continued high demand. Spending topped $264 billion dollars, an increase of $49 billion year-over-year (y-o-y). Following OPEC's November 2014 decision to keep the market oversupplied, American consumers spent $262 billion on gasoline and motor fuels in Q1 2015—a massive $112 billion decline in spending y-o-y. Expenditures followed the significant collapse in the global crude oil market that precipitated a decline in domestic gasoline prices by more than $1 per gallon at the tank to a quarterly average of $2.18 per gallon. Much of those savings have now been offset by the rise in global crude prices throughout the past year.
January 26, 2017
Federal Royalties Collected From OCS Activities
Federal royalties from Outer Continental Shelf (OCS) activities fell to $2.7 billion in 2016, a steep decline from $5 billion the federal government collected in 2015 and the lowest dollar value since 1995. Royalties from oil resources—which in recent years have come to represent the largest share of U.S. OCS revenues—comprised 79 percent of OCS incomes, a reflection of declining gas royalties and declining bonus bids. Global crude oil prices entered a multi-year decline in late 2014 when OPEC decided not to constrain global production. Offshore exploration and development activities in the OCS were subsequently scaled back as imported crude oil prices fell to $38.75 per barrel in 2016. The Trump Administration has promised to expand U.S. federal lands access, but many OCS areas remain restricted by presidential withdrawals.
January 13, 2017
Wide Spread in 2017 Oil Price Predictions
Analysts hold diverging opinions on the direction of oil prices in 2017. Although OPEC recently agreed to blocwide production cuts in November 2016, some observers wonder whether the producer group will be able to enforce targets, feeding speculation that the current period of oversupply will carry into next year. In a year-end Twitter poll, SAFE asked several prominent energy reporters and oil market analysts to offer their predictions on Brent crude oil prices by the end of 2017. Ten responses were collected by @leslietron, SAFE's Vice President of Content and Communications. Predictions ranged from a high of $72 per barrel to a low of $33 per barrel with most forecasts concentrated around the $60 per barrel mark. Observers' predictions are higher than EIA's year-end 2017 reference case forecast of $54 per barrel, reflecting, in part, the ongoing uncertainty over the state of the oil market and OPEC's role in managing production policy.
January 6, 2017
Lower Gasoline Prices Support Spike in Light Truck Market Share
With nationwide gasoline prices averaging $2.25 per gallon, light truck sales reached historic highs in 2016 as consumers purchased larger and less fuel-efficient vehicles. The light truck share of the light-duty vehicle market rose to 60.6 percent in 2016, a 3.8 percentage point increase year-over-year as U.S. consumers bought 10.5 million units last year out of a total of 17.5 million light-duty vehicle sales. Light truck sales have increased markedly since global oil prices fell in late 2014, continuing an upward trend despite a recent increase in retail gasoline prices.
December 19, 2016
U.S. Shale Stock Prices, H2 2014 versus H2 2016
OPEC's production policies have an outsized impact on U.S. oil company valuations. The cartel's November 2014 decision to keep production high and not reduce output resulted in a collapse in global oil prices, triggering considerable market losses for U.S. shale oil companies. Continental Resources, for example, saw shares of its stock fall nearly 20 percent in one day. Prices have recovered since late-2014, however. Last month, domestic oil prices rose more than 8 percent in one day following news that OPEC would reduce output by 1.2 million barrels per day (mbd) and cap its share of global production at 32.5 mbd. U.S. companies have since seen appreciating returns as investor optimism returns to the market. Indexed oil company valuations show declining stock prices for select producers in H2 2014, but an improved outlook in H2 2016. Domestic producers' bottom lines remain dependent on OPEC's production signals.
October 21, 2016
Light Truck Market Share Hits a Record High
Since the sharp oil price drop in 2014, the share of light truck sales in the U.S. has soared. Light-truck sales averaged 10.7 million units throughout Q3 2016, reaching a record of 61 percent of total new light-duty vehicle sales. Total sales have reached levels not seen since the summer of 2005. Total seasonally adjusted light-duty vehicle sales are down 3.8 percent from Q3 2005, though light truck units are up by 590,000 units.
October 18, 2016
U.S. Plug-in Electric Vehicle Sales, 2011-Present
Sales of battery and plug-in hybrid electric vehicles surged in Q3 2016, increasing 63 percent year-over-year, the highest rate of quarterly growth observed in the last two years. In total sales terms, Q3 also marked the largest net addition of vehicle sales ever recorded, with automakers selling approximately 45,000 units, a 20 percent increase quarter-over-quarter. Battery electric vehicle sales were particularly strong, propelled in part by Tesla Motors, which reportedly delivered an estimated 24,500 vehicles. Tesla is on track toward meeting its second-half goal of 50,000 vehicle sales by year-end. The company hopes to meet a sales target of 500,000 vehicles per year by 2018. More than half a million EVs are currently operating on U.S. roads.
October 7, 2016
Year-Over-Year Change in U.S. Traffic Fatalities
U.S. traffic fatalities continue to increase at an alarming pace, according to preliminary data from the National Highway Traffic Safety Administration (NHTSA). Compared to the first half of 2015, roadway fatalities rose by 10.4 percent in the first half of 2016, jumping from 16,100 to 17,775, an increase that may be at least partially due to the emergence of distracted driving. NHTSA's data shows an estimated 35,100 people died in last year, up from the 32,675 reported fatalities in 2014. Driverless vehicles, which can reduce roadway fatalities by as much as 94 percent, stand to completely upend the traditional notion of transportation and virtually eliminate on-road fatalities.
September 30, 2016
Global Upstream Capital Spending, 1985-Present
Earlier this month, Barclays released its Global Survey which presented new estimates for upstream capital spending in the oil and gas industries. After two years of decline, the bank now forecasts a 5 percent increase in global exploration and production spending for 2017. Nonetheless, in North America, spending is still estimated to fall 37 percent this year (although slightly less than the 40 percent decrease Barclays estimated in March). There have only been four periods of decline in the survey's 30-year history: the 1986-87 OPEC Oil Crash; the 1999 Asian Crisis; the 2009 Great Recession; and the 2015-2016 Shale Glut. The current decline has coincided with the loss of more than 130,000 jobs in the U.S. oil sector and more than 350,000 globally. Although the industry is currently forecast to increase spending in 2017, the outlay is expected to be only approximately 60 percent of the roughly $662 billion spent in 2014. (Note: Barclays spending estimates assume U.S. oil prices in the $55-60 per barrel range).
September 16, 2016
Global Oil Supply and Demand Balance, 2012-Present
The oil market continues to tighten as growth in demand outpaces the increase in global oil supplies. However, it still remains in a state of oversupply. Following significant production shut-ins in the Gulf of Mexico related to the impacts of Hurricane Hermine, EIA reported a massive weekly crude draw of 14.5 million barrels in late August and early September. Globally, oil demand rose 0.9 mbd quarter-over-quarter in Q2 2016, from 94.1 mbd to 95.0 mbd. Over the same period, implied inventories increased 0.2 mbd, from 95.6 mbd to 95.8 mbd. Growing inventories show a surplus remains. As Nigerian and Libyan production come back online, EIA's latest forecasts project continued supply growth and net inventory additions through mid-2017.
September 6, 2016
U.S. Crude Inventories and Days of Forward Cover, 2006-Present
U.S. commercial crude oil inventories climbed to 525.9 million barrels in August, a 14 percent increase year-over-year, providing up to 31.5 days of forward cover. Although stocks fell, on average, throughout the summer, they did so only modestly and even saw some surprise weekly builds along the way. This year, from their peak in late April to the end of August, crude stocks drew by 17.7 million barrels or just 3.2 percent. By contrast, during the same period a year ago, the decline totaled roughly 35 million barrels, or 7.1 percent. The large global stock overhang has to be trimmed for any significant price increase to occur; however, evidence suggests that such an inventory draw is not happening. Weaker-than-expected demand, coupled with the refiners' flexibility from having high stockpiles and robust imports, is also keeping refined product inventories at high levels.
August 26, 2016
Unplanned Crude Oil Outages, 2011-Present
Secretary of State John Kerry was in Nigeria this week, offering U.S. support for the government's military campaign against the terrorist insurgency Boko Haram. Nigeria, West Africa's largest oil producer, has become beset with violence as falling oil revenues drive its worst economic slump in decades. In the Niger Delta, armed crusaders have attacked key oil infrastructure as recompense for what they see as limited economic opportunities and an unfair allocation of petrodollars. In July, Nigeria's outages increased to 700,000 barrels per day as several producers, including Shell, Chevron, ExxonMobil, and Eni have been unable to move product shipments out of the Niger Delta region.
August 19, 2016
NYMEX Speculative Positions in WTI Futures and Options Contracts
Financial actors, including hedge fund managers and other investors, can have a tremendous impact on the futures price of oil. Last week, as Saudi Arabia's Energy Minister Khalid al-Falih indicated that the Kingdom might be open to measures to freeze production in the coming months, oil traders increased net long positions after falling sharply for about two months. NYMEX WTI and Brent crude oil prices have risen by more than 16 percent to $46 and $49, respectively, since early August. Other factors influencing the market include ongoing inventory overhang, seasonality, and the growing rig count, which so far has helped prop up U.S. production.
August 8, 2016
Investment Bank Oil Price Forecast Ranges, 2014-Present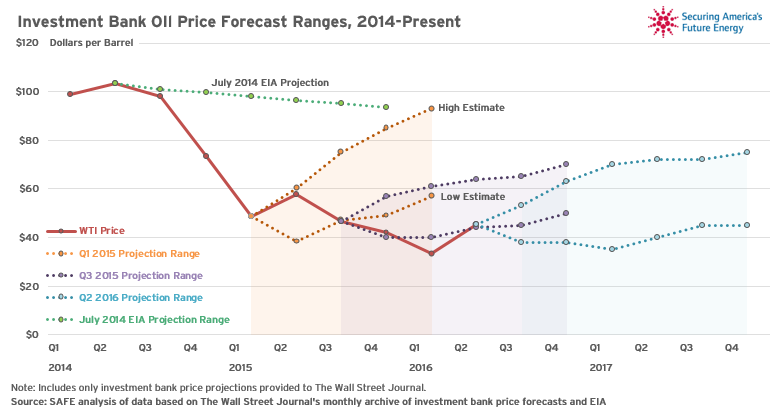 With Brent crude oil prices continuing to hover around $40 per barrel (bbl), some investment banks are adopting an increasingly bearish short-term view of oil prices. In a research note published Wednesday, Morgan Stanley's chief energy commodity strategy analyst Adam Longson argued that recent Saudi pricing actions, as well as improved refiner margins, will push prices toward $35/bbl over the next one to three months. Market uncertainty over commercial stockpiles continues to complicate efforts to forecast future prices. Investment bank estimates have varied widely over the past two years, and many are now anticipating 2017 prices between $45/bbl and $75/bbl. As recently as Q1 2015, some banks forecast prices above $90/bbl for early 2016. Earlier this week, Securing America's Future Energy released its Q2 2016 Energy Security Fact Pack, which includes additional data on global supply and demand, the U.S. vehicle market, supply disruptions, and more.
August 4, 2016
U.S. Gasoline Demand Rises, But Weaker Than Originally Expected
New evidence suggests U.S. gasoline demand is not rebounding as strongly as some market observers previously believed. Between 2015 and 2016, EIA projects implied gasoline demand to grow from 9.16 million barrels per day (mbd) to 9.29 mbd, an increase of 130,000 barrels per day (b/d). Although the 2016 figure is currently expected to match 2007's record, EIA's weekly preliminary estimates for April and May have been downwardly revised after exports were factored in. More downward adjustments could follow. Growing gasoline stockpiles also continue to complicate life for the refining industry, which is already struggling with weaker margins.
July 27, 2016
EV Chargers Dominate Growth in Alternative Fuelling Stations
Last Thursday, the Department of Energy (DOE) announced a new nationwide loan guarantee program that is expected to spur as much as $4.5 billion in electric vehicle (EV) charging network investments. A lack of public charging infrastructure is sometimes cited as hindering EV adoption rates, despite the fact that up to 90 percent of charging occurs at home or in the workplace. The total number of EV charging plugs is up 103 percent through Q2 2016 versus three years ago, a net addition of approximately 20,000. 2016 is also turning out to be a record year for EV sales, with more than 65,000 vehicles sold through end-June. The DOE program has the potential to help accelerate the pace of EV sales, which last year represented less than 1 percent of total new light-duty vehicle sales.
July 22, 2016
Y-o-Y Change in Bakken Production and Drill Rig Efficiency
As domestic oil prices hover around $45 per barrel, many U.S. tight oil producers are finding new ways to cut costs and increase rig efficiency. The research consultancy Wood Mackenzie recently found tight oil drillers to have largely adapted to the new low oil price environment, eliminating as much as 40 percent of production-related expenses over the past two years. Nevertheless, EIA data released this week estimates that June production in North Dakota's Bakken shale formation, for example, fell approximately 248,000 barrels per day (b/d) year-over-year (y-o-y), due in part to slowing rig efficiency in the region. Some Bakken producers are nonetheless optimistic that domestic oil prices will recover. Continental Resources' CEO Harold Hamm, who operates one of the largest oil and gas producers in the Bakken region, spoke in Cleveland Wednesday addressing the delegates of the 2016 Republican National Convention. He told USA Today that "the fundamentals [of the oil market] are in favor of higher prices" and expects domestic prices to reach at least $60 per barrel by the end of 2016.
July 15, 2016
Brent Price and Y-o-Y Change in Employment in Oil and Gas Drilling and Support Services by Sector
According to preliminary Department of Labor figures, more than one-out-of-five American oil and gas jobs were lost from the end of 2014 to the end of 2015, down approximately 135,000 year-over-year (y-o-y) from around 367,000 to 502,000 jobs sector-wide. Domestic oil and gas producers—who incur higher operational costs than Middle East exporters—are more sensitive to changes in global oil prices. In December, a barrel of Brent crude fell to $38, less than half the 2014 average. Specific subsectors were especially hard-hit. Support services for the oil and gas industry, which includes fee-based contractors, lost 74,000 jobs y-o-y (a 22 percent decline), followed by drilling services (down roughly 44,000 jobs y-o-y, or 43 percent) and extraction (down 17,000 jobs y-o-y, or 8 percent). Job losses tend to lag behind oil price declines and continued in the support and extraction sectors into the early part of 2016 as oil prices dipped still further.
June 30, 2016
Projected U.S. Crude Production by Source, 2000-2040
Earlier this week, EIA Administrator Adam Sieminski presented the 2016 Annual Energy Outlook (AEO) Early Release, providing an overview of the agency's updated energy projections through 2040. According to Sieminski, daily Alaskan oil production will fall by approximately 80 percent over the period to just 100,000 barrels per day, as its oilfields—most notably, Prudhoe Bay—enter states of natural decline. Conversely, onshore tight oil production in the lower 48 states is projected to increase by 31 percent (to 7.1 million barrels per day). Production from lower 48 state conventional wells, as well as the Gulf of Mexico, will remain steady versus 2015 levels. Overall, the AEO reference case sees a 1.8 mbd increase in U.S. crude oil production versus a 2015 level of 9.4 mbd, underscoring the growing relevance of tight oil in the future U.S. oil supply mix. This projected increase is supported at least in part by an assumption that domestic prices will gradually increase from $37 per barrel in 2015 to $129 per barrel in 2040.
June 24, 2016
Changes in Global Crude Oil Supply and Demand
As global oil prices hover just under $50 per barrel, non-OPEC supply continues to decline. May 2016 marked the fourth consecutive month non-OPEC liquids production fell. It has now been seven months since growth in non-OPEC production last exceeded that of global oil demand, one indication that the market continues to adjust to lower oil prices. In total, non-OPEC production fell by roughly 0.8 mbd year-over-year last month while global oil demand grew by 2.4 mbd. Production in the United States has fallen from 9.2 mbd in the first week of January to 8.7 mbd in the last week of May.
June 16, 2016
Employment Outlook in OPEC Gulf States
Low oil prices are forcing oil exporters to curtail currently high levels of public spending. In the Arab Gulf states alone, the IMF estimates that more than 570,000 new labor force entrants between 2015 and 2020 will be unable to find employment as public sector hiring stalls and fiscal deficits soar. This week, Securing America's Future Energy released an issue brief detailing how members of OPEC, led by Saudi Arabia, are pursuing a strategy that aims to use a period of low prices to structurally rebalance the oil market to their benefit. The strategy has four main components: (1) recapture short-term market share from U.S. shale and other responsive sources of global supply; (2) undermine investment in capital-intensive, long-term, non-OPEC oil supplies such as global deepwater resources and Canadian oil sands; (3) stimulate short-term oil demand through low prices; and (4) undercut global policy to reduce oil consumption, including fuel economy standards, as well as competition to oil, such as electricity and natural gas. There is compelling evidence that all four components are already succeeding.
May 27, 2016
Hybrid and Plug-In Electric Vehicle Sales from Year of Introduction
The uptake rate for hybrid electric vehicles (HEVs) was slower than plug-in electric vehicles (EVs) in their first five years of commercial availability, a reflection of growing consumer acceptance of advanced vehicle technologies and automotive manufacturer interest. As a proportion of total light-duty vehicle (LDV) sales, the uptake rate of hybrid vehicles grew steadily from 0.05 percent in 2000 to 0.5 percent in 2004, an increase of roughly 75,000 vehicle sales that were largely comprised of the two most popular models, the Toyota Prius and Honda Civic. EV sales, meanwhile, grew from 0.14 percent of the market in 2011 to 0.73 percent in 2014. Low gasoline prices contributed to slower EV sales in 2015, and a decline in the uptake rate to 0.65 percent. There were 25 hybrid models sold last year, compared to 26 fully electric or plug-in models, according to HybridCars.com.
April 27, 2016
Fiscal Breakeven Oil Prices for Selected Middle East Exporters
Falling prices since mid-2014 have turned surpluses into deficits for many oil-exporting countries—export receipts declined by $390 billion in 2015. This has severely weakened the capacity of governments to spend, and forced them to not only reduce spending and subsidies (including those attached to local gasoline sales), but also seek new sources of revenue. Saudi Arabia's recently announced economic reform program is just one such example of proposed adjustments. The possibility of the GCC introducing a value added tax (VAT) is another.
April 8, 2016
U.S. Plug-In Electric Vehicle Sales, 2011-Present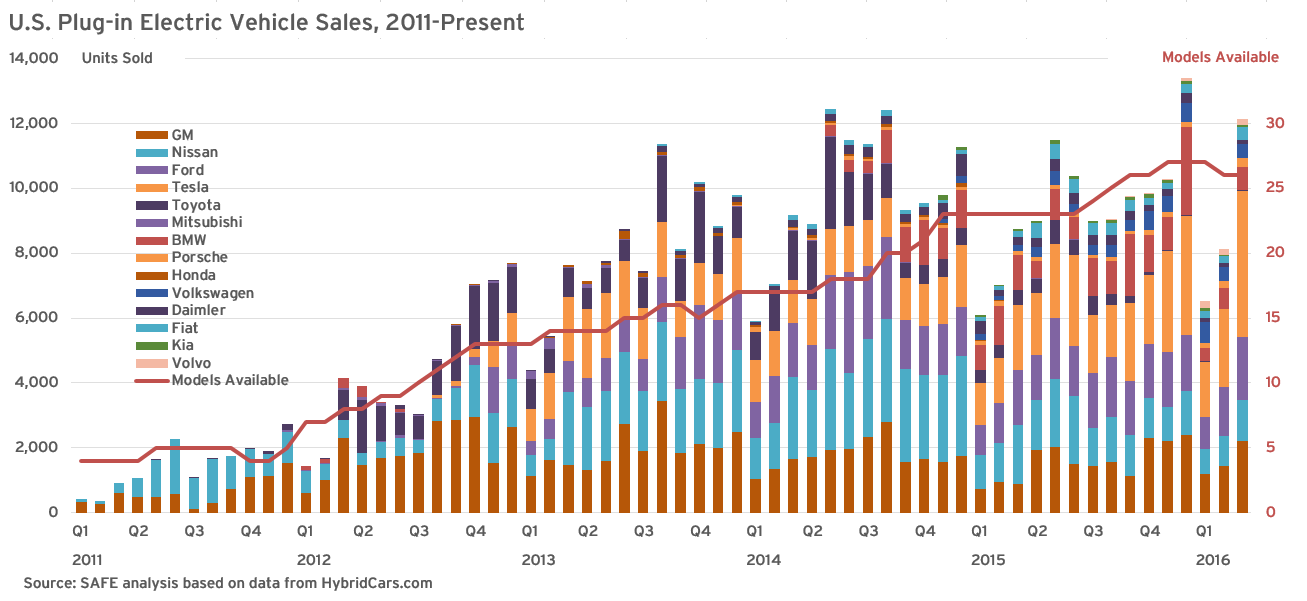 March was a near-record month for electric vehicle sales. The U.S. market has now had seven consecutive months of EV sales exceeding the comparable period last year. March sales grew from 8,735 to 12,405 year-over-year (y-o-y), a 42 percent increase. Quarterly (Q1 2016) sales were up more than a quarter (25.6 percent) from 21,850 to 27,451 y-o-y. Sales for EVs grew on the strength of Tesla's Model S and Model X, the latter of which finally enjoyed a breakout month as production increased. Tesla estimated 3,000 orders of the Model S sedan for the month, up 50 percent from 2,000 orders last year. The automaker also reportedly estimated 1,500 sales for the Model X. Not to be outdone, Chevy sold 1,865 Volts, up 192 percent from 639 last year.
Automakers sold 27 alternative fuel vehicles in the first quarter, including 14 PHEVs, 12 EVs, and 1 CNG car.
Since 1/2011, more than 427,000 AFVs have been sold. Of these, 423,000 were EVs.
March 25, 2016
Oil Sector Job Losses Climb
For the first time since the Great Recession, U.S. oil and gas sector employment is falling consistently (although total private sector employment continues to rise). Among the hardest hit industries, 81,000 jobs were lost in the oil and gas support services sector between October 2014 and January 2016, a 48 percent decline. Companies continue to scale back employment in response to the massive reduction in drilling activities, cutting the number of drill rigs from 1,609 in October 2014 to 387 in March 2016, a 75 percent drop.
March 1, 2016
Tight Oil Production in Select Formations
EIA currently forecasts U.S. shale oil production to fall almost 640,000 barrels year-over-year (y-o-y) from its March 2015 high of 6.1 mbd, a decline of 10 percent y-o-y. More than three-quarters of the fall is attributed to declining output in the Eagle Ford where low oil prices have forced many independent producers to reduce activity. The decline was in part offset by rising output in the Permian basin of approximately 160,000 barrels y-o-y, an 8 percent increase. Oil market dynamics and the role of U.S. shale oil was a major topic of discussion during CERAWeek in Houston this week. OPEC Secretary-General Abdullah al-Badri, for example, indicated that non-OPEC producers will become increasingly important in the rebalancing of the market. "I don't know how we are going to live together," Badri said of the U.S. shale oil sector. "If prices will go up in 2017 or 2018, the price rally will be capped by U.S. shale oil. That's what is different this time."
February 17, 2016
OPEC and Non-OPEC Oil Supply (y-o-y change)
Q4 2015 global oil production grew nearly 1.0 mbd year-over-year (y-o-y) on the back of higher U.S. and Saudi Arabia supply (+0.2 and +0.4 mbd y-o-y, respectively). Non-Saudi OPEC supply also continued its recent positive trend for the sixth consecutive quarter (+0.7 mbd y-o-y). The oversupply has contributed to a collapse in oil prices since the summer of 2014 from more than $100 per barrel to less than $30 per barrel in recent weeks. This week, several OPEC countries, along with Russia, agreed upon a potential "freeze" in production as part of efforts to stabilize the market. However, this agreement would also require the participation of Iran and Iraq which is not yet secured. Meetings take place today in Tehran.
February 10, 2016
Capital Expenditures for Selected Producers, Year-Over-Year
Lower oil prices forced producers to rapidly adjust spending plans in 2015. Capital expenditures are set to decline further for many in 2016. Independents like Occidental and Anadarko, which have extensive operations in U.S. shale basins, are experiencing greater declines than supermajors like Chevron and ExxonMobil. The declines mark a shift away from a period of increasing investment observed in recent years due in part to previously higher price levels.
February 4, 2016
Saudi Arabia and Iran: Oil Production and Unplanned Outages
Although global oil prices are already at their lowest levels in more than a decade, Iran is poised to return additional barrels to the market now that sanctions have been lifted. In part due to the lifting of sanctions, tensions between Saudi Arabia and Iran have risen in recent weeks, and were intensified by Saudi Arabia's execution of Nimr al-Nimr. More than 3 mbd of oil remains offline globally and these rising tensions could potentially place more barrels at risk. Today, Securing America's Future Energy (SAFE) released a report exploring in more detail rising tensions in the region.
January 27, 2016
Household spending on gasoline declined to an estimated $1,768 in 2015, $700 lower than 2014. It was the third consecutive year of decline, a streak that is forecast to continue in 2016. If realized, estimated spending of less than $1,500 per household in 2016 will be the lowest level observed since 2003. The EIA currently expects both gasoline consumption and prices to increase in 2017 (the agency released its first forecasts for 2017 earlier this month), which would result in a marginal increase in household spending year-over-year.
January 22, 2016
With oil prices (in blue) declining substantially in 2016 so far, oil price volatility (in orange) remains elevated. 30-day volatility is back above 50 percent as of yesterday, its highest level since late September. For comparison, it was approximately 16 percent in H1 2014 (a period of relatively stable, historically higher prices). On Wednesday, the price of West Texas Intermediate fell 6.7 percent to $26.55 a barrel, its lowest closing price since May 2003.