Stay on top of the latest developments in oil markets, geopolitical risk, and alternative fuel vehicles with the SAFE policy team's Chart of the Week.
SAFE modeling shows that the widespread use of existing platooning technologies for trucks could save up to 20 billion gallons of diesel fuel through 2050.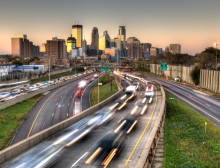 Rather than implementing a patchwork of state legislation, the U.S. will need a well-connected transportation system with national infrastructure standards in order to handle coming changes with AV technology.