Search Results
for Chevy Bolt
December 2016 EV sales surpassed the previous monthly record set in September by an enormous 44 percent.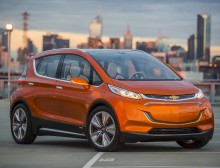 Industry experts Bob Lutz and Tony Posawatz discuss new electric vehicle offerings, and which company is better positioned to lead the sector.
The Breakthrough Energy Coalition emerged this week just ahead of the United Nations Conference on Climate Change in Paris. It is a very ambitious project, but will it have much of an impact on the transportation sector?