Search Results
for EV Charging
Using blockchain technology, peer-to-peer networks have established marketplaces to connect EV drivers so they can share charging stations with each other.
Despite improvements in charging infrastructure and battery technology, consumers may still be hesitant to buy EVs based on outdated preconceptions.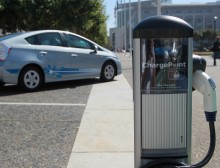 Electric utilities are one major entity that can gain financially from deployment of charging stations for electric vehicles and will be key in improving charging infrastructure.