Search Results
for Freight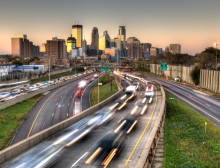 Rather than implementing a patchwork of state legislation, the U.S. will need a well-connected transportation system with national infrastructure standards in order to handle coming changes with AV technology.
In a rare increase in stringency over the proposed rules, certain large trucks are required to be up to 25 percent more fuel efficient.
New research finds that delivery of goods from online shopping does not cause Americans to drive less, but instead adds to the burden on roads.