Search Results
for ICE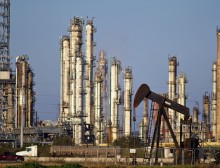 With more buyers from around the world requesting U.S. crude, a Houston-based price point has become necessary.
Although some hold onto bullish sentiment, traders are skewed toward a downside or rangebound bias in the near term—OPEC has lost credibility, the large inventory overhang persists, shale's resurgence and a rising rig count continue, and the spat over Qatar didn't affect the market. None of these factors should change anytime soon.
Intercontinental Exchange's Brent and Gasoil futures have retained their roles as the world's crude and refined oil benchmarks because they have evolved in line with the physical markets over the course of the last three decades.