Even before the recent rout in oil prices, a distressing trend had been rising in the oil and gas industry: ballooning megaprojects that far exceed estimated timelines and budgets, stressing oil and gas companies and cutting into returns. While oil exploration has always been an expensive business, costs have been rising at a troubling pace in recent years.
The International Energy Agency's World Energy Outlook reported last year that upstream investment costs have risen by 180 percent since 2000, but global oil supply has only climbed 14 percent. "What we see are significant delays in the oil and gas industry as a result of a lack of available skills, bureaucratic barriers and geopolitical challenges," says Fatih Birol, chief economist at IEA. "We see almost all big projects delayed." Meanwhile, Sanford Bernstein investment group estimates that costs for integrated oil companies increased by 10 percent last year alone.
Consumers may be enjoying the current low prices, but as oil companies are steadily pushed into more and more challenging geological and political environments, they should probably enjoy cheap fuel while it lasts. Project delays and cost overruns are widespread—yet a mere trio of megaprojects can best exemplify the industry's escalating challenges. Here those top three infamous projects.
Shell Arctic Drilling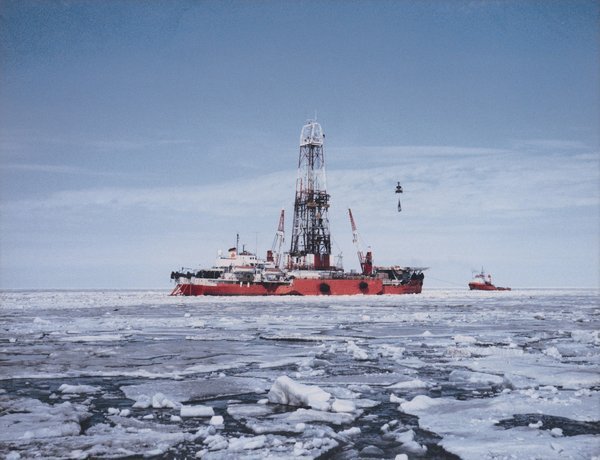 The troubles with Shell's ambitious Arctic drilling program began in 2012, when the company's Arctic fleet failed air pollution tests and Shell had to backtrack on claims that it could recover 90 percent of oil in a spill (the truth was that the company expects it can prevent 90 percent of spilled oil from reaching shore, but realistically only 5-15 percent can credibly be recovered). Later into 2012 and 2013, things got worse.
In July 2012, the Noble Discoverer drill ship slipped anchor and drifted into Dutch Harbor, Alaska, highlighting the fact that—despite the need for intense safety regulations to cope with harsh winter conditions—Shell's operation was not truly airtight. This led to additional environmental protests later in the year when Shell was only able to obtain limited preparatory drilling permits for its operations in the Chukchi Sea. This second setback came because the U.S. Coast Guard raised concerns that Shell's response barge, the 36-year-old Arctic Challenger, was not properly equipped to handle a mishap. Further safety considerations were raised in November when the Noble Discoverer briefly caught fire from an engine backfire and then later in the month, when the Coast Guard raised concerns about the ship's waste disposal system—then yet again in December, when the Kulluk drilling rig ran aground.
When Shell was able to begin its limited drilling operations in September of 2012, work was halted by a 12-by-30 mile ice floe moving into its drill site. With winter Arctic sea ice also on the horizon, that was enough to put an end to Shell's Alaska ambitions for 2012.
In February of 2013, Shell "paused" its Arctic drilling operations to prepare equipment and plans for resumption of its activities at a later time. The Noble Discoverer and Kulluk drilling rigs were shipped to Asia to address necessary repairs. In October of that year, Shell announced its intentions to resume operations in 2014, but later backtracked on this plan when a federal appeals court found that the Interior Department had awarded drilling permits based on inadequate information. This was a major win for environmentalists, who had been battling Shell's Arctic operations for years, and a roughly $5 billion setback for Shell.
In January 2015, Shell announced that although it was shaving $15 billion from its total global investment budget, it is still moving forward with Arctic drilling this year. According to the company, in addition to the billions in initial investment, every year that the company has kept the project running has cost "several hundred millions of dollars."
Of course, the recent green light from the Obama Administration to allow Shell to drill in the Chukchi Sea is a sign that the company's efforts could eventually bear fruit. But as Keith Johnson points out in Foreign Policy, regulatory approval doesn't solve the problem of low oil prices and extraordinarily high costs.
Gorgon LNG
Chevron's Gorgon LNG project, located off the coast of Australia, is an offshore natural gas drilling project connected to a liquid natural gas plant on nearby Barrow Island. The project's original budget was estimated at $37 billion in 2009, but has since mushroomed to $54 billion, yet still remains incomplete.
The project's original budget was estimated at $37 billion in 2009, but has since mushroomed to $54 billion, yet still remains incomplete.
Why has Gorgon been such a challenge? Chevron has blamed the high Australian dollar, wage increases, low productivity, weather delays, and logistical challenges. The Maritime Union pushed back, arguing that wasteful management practices on Chevron's part and red tape are accountable for the setbacks, and described the project as a "fiasco." Nevertheless, the project is still on schedule to be operational within the next two years, and Chevron says it is still economical. The gas plant is expected to produce nearly 16 million tonnes of LNG annually for export and 300 terajoules of domestic gas per day, most of which will flow to Australia. Two-thirds of that output has reportedly been committed in long-term contracts.
Gorgon is also groundbreaking in many ways. In addition to representing Australia's largest natural resource development project, it is also designed to be the world's largest commercial-scale CO2 injection facility, requiring a $2 billion investment.
According to Chevron's latest project update, Gorgon is now 90 percent complete. But there's still no clear answers for shareholders about if the project will begin producing this year, as new labor disputes have arisen. In mid-February, 220 mechanical staff were laid off due to redundancies, out of the 8,000 currently working on the project—far more than ever anticipated in initial planning, putting further upward pressure on the total project cost.
Kashagan
Kashagan demonstrates that combining four energy giants, a $50 billion investment, 10 man-made islands, and nearly a decade of labor can somehow result in zero oil production.
Kashagan is the poster child for all that can go wrong in the oil industry, demonstrating that combining four energy giants, a $50 billion investment, 10 man-made islands, and nearly a decade of labor can somehow result in zero oil production. Nobody is sure exactly what has gone wrong, but it has something to do with the confluence of onerous regulations, corporate bureaucracy, an icy sea, and toxic, corrosive gasses capable of destroying pipelines and killing workers.
Kashgagan's torrid history reaches back to 1993, when a consortium including Italy's Eni, the UK's BG Group, Norway's Statoil, BP, Mobil, Shell and France's Total was established to explore the northern Caspian Sea. Eleven billion barrels of oil—the largest oil discovery in decades—was located in May of 2000. The good news ended not long after that. Some of the first major setbacks occurred in 2005, when the Kashagan companies involved determined that Eni had planned to build worker housing facilities too near to extraction operations, potentially exposing workers to leaks. Redoing the plan delayed construction and raised costs. Eni announced the first cost overrun—$5 billion—in March 2006.
From $10 billion in 2005, the tab for Kashagan has climbed to somewhere between $50 and $136 billion.
As of right now, the project (nicknamed the "widow maker") is suspended indefinitely. But while Kashagan is emblematic of all that can go wrong at once, it also represents a "new normal" for an oil industry that is finding itself pushed into riskier political and physical geologies.